YAAAAAAAAY~~~~~~
I'm 15 now! It's a really nice number.
For example:
Now I'm only 3 years younger than Kumai...well i was before...but WHATEVER. Now if you do math with just our ages it 3 years. That goes for all the other ones.
I'm the same age as ICHIGO. LOL FRICKIN LOLL.
I'm only 5 years younger than Cheetah.
I'm only one year younger than Nick Jonas.
And a bunch of other crap
Also I got my braces off 2 days ago!!!! YAY I LOVE IT!!!
Today was really good! Thanks to me friends and family. I love them.
Kristen: that card is fucking awesome. aishiteru~~~~~~~~~~~~~~~~~~~

GUH! I LOVE IT!
So, my mom MADE me get out of school today to "try and beat the crowds" to take my Learner's Permit test. Turns out there was hardly any people there. Whatever I don't even care. XD I missed two. 23/25 which means I PASSED!!! YAY YOKU DEKIMASHITA!~ The ladies at the counter things were really grumpy though! I was like SHUT UP! Anyway. SO now I have an ID and I can legally drive~! AYYAYAY!
So when we reached the gas station across the street from HyVee, my mom let me drive. I was SOOOOOOO nervous. I didn't want to because I was going to crash, but I wanted to because driving is FUN! My mom said I'd be fine...so I listened to her. LOL.
I did okay I guess. We went home to pee LOL and then we went around the neighborhood and IT WAS AWESOOOOME!!!
Oh and also my cousin Maggie called me! YAY!
At 6:00 My mom, Steve, logan, Kristen and I headed downtown to the japanese restaurant Wasabi. YEEEEEEEA! LOL there was a guy there that loooked like a younger version of Abe Lincoln. It WAS AWESOME!!!!!!!!! The food was good. Lots of sushi YUMYUM. Lol Logan got Baby Burgers. It wasn't the best place. I've had better. BUT OMG WE GOT TEMPURA CHEESECAKE. IT WAS SO UNBELIEVABLY GOOD! I died. Yeah Life is good. We were there for A REALLY LONG TIME THOUGH!!!!! Gracu-chan didn't come. I was sad.
Anyway fun times. I don't feel like typing anymore


Proceed to fangirlin


oh and lol
You Nebraskans watch this. or at least until 1:05
go here PLIS
http://www.youtube.watch/?v=5zhYafe1_fc
LOL WTF They spelled Nebraska wrong too...I assume their talking about our NE too..but whatever
OH and BTW K-chan the girl in the hat is the one thats gonna be in a drama with Nakamura Aoi...like you care anyway, but yeh.
OH AND OMG I WISH I COULD'VE GONE TO THE RECENT AAA C
ONCERT.
It sounded amazing!!! With spotlight not only on
Misako
the betch.
OMG Hidaka's hair is weird, but cute.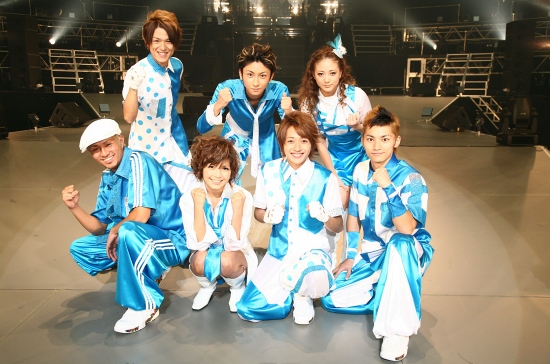 BUT LOL Drama thing Look who looks retard. Shuta is cute though.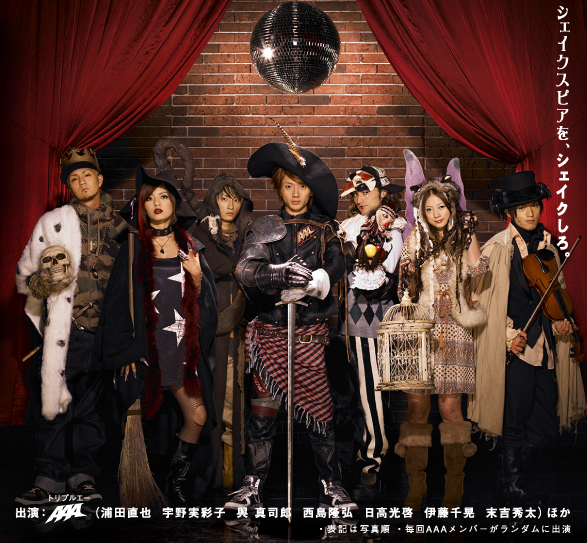 OMG TOMA AS DANNY ZUKO IN GREASE!!!!!!!!
!!!!!!!!!!!!!!!!!!!!!!!!
OMG FUJIMOTO MIKI AS RIZOOO!!!!!! I FUCKING love it. (Miki=Girl in purple)
Proof of Miki's awesomeness
Her eatin Yoshizawa Hitomi's brains
oh and the thing I lol at everytime i see it
I'm so ashamed. I bet I'm the only one amused by it ever.
Cryptic Lo approves.
OH and some lyrics for thought.
What does "Love Cream and my Pudding" mean to you?

*eyebrow raise*
"Aisuuu kuriiimu to myyy purrin"